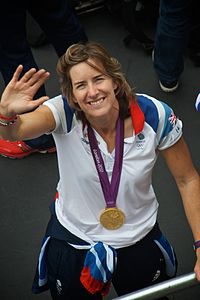 Girls rule and boys…well you get the point! The roles women play in the world has been forever changing into a dominant position; especially in the category of sports. Here are the names of several famous Scottish female athletes and how their successes live up to the meaning of their names!
Fiona MacDonald
"She came, she saw, and she conquered" would be the best quote used for Scottish athlete Fiona MacDonald. In 2002, she became a gold medalist for Curling in Salt Lake City. The name Fiona is derived from the form of the Gaelic word fionn, meaning "white", "fair". It appears fitting since Fiona ruled the sport of Curling on white ice!
Catriona Matthew
Women don't get credit for it, but they professional golf as well! Golfing takes a certain level of pure and clear concentration the sport. No wonder Catriona Matthew is a member of the Ladies Professional Golf Association. With a consistent number of wins over the years, Catriona's success represents her name; pure and clear!
Lorna Vevers
The name Lorna means femininity. It also is a popular name from Blackmoore's novel Lorna Doone who was discovered to be an heiress. Naturally, this name fit perfectly for Lorna Vevers who won a bronze medal at the 2007 World Championships for Curling. A true heiress of success in the sport!
These famous Scottish female athletes sure know how to live up to their names!
Useful Resources
Discover the meaning and popularity of Scottish girls' names on our website.